What Does It Cost to Hire a Bookkeeper?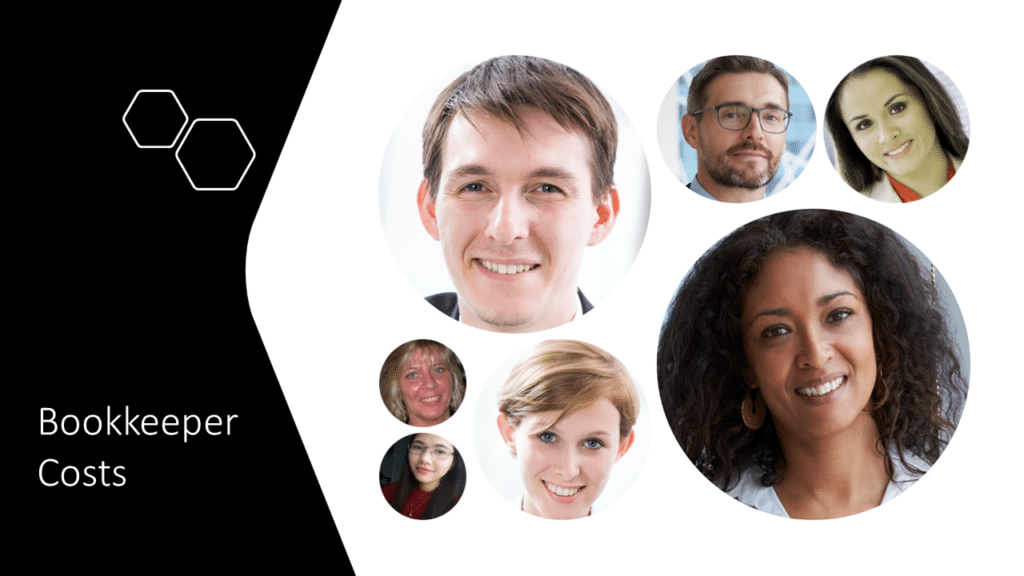 Bookkeeping fees vary a lot from location to location. They also vary a lot in terms of how they are packaged. Some bookkeepers like to package their services at a monthly rate, some weekly, and some by the specific actions that are covered.
For example, within a package's pricing, some bookkeepers like to cover things like entering vendor payments but not cover entering and paying accounts payable items. Some like to even limit the number of accounts payable items.
The other and probably the biggest difference is the skill/scope difference. Bookkeepers vary so much in their experience and skills that this can be an even bigger difference.
A highly skilled and experienced bookkeeper can usually save a business a lot of money and also help them to be more profitable. An advanced bookkeeper will help to create processes that drive efficiencies that means that bookkeeping, sales, and related processes can be done in a shorter time, saving money that way.
We feel that these pricing schemes often make cause costs to escalate and generally make it difficult for clients to know what the costs will ultimately turn out to be.
Columbus Bookkeeping & Accounting Services
Our Rates:
At Columbus Bookkeeping & Accounting Services we try to allow the client to have control over their costs and manage them in a very transparent way.
To that end, our pricing is broken into simple upfront blocks of hours. The more a client funds upfront, the more our fees are appropriately discounted.
Hour Blocks – Pricing in Blocks of Hours
5 hours = $259

10 hours = $427 (Most Popular)
40 hours = $1,487
To get started with Columbus Bookkeeping & Accounting Services all a client needs to do is purchase an initial block of time and we will do whatever form of accounting and bookkeeping the client wants. Once those hours are used up the client can choose to purchase another block as suits their budget and or whatever they need to get done.
This way our clients are in complete control over their own bookkeeping budget. By this way charging in block hours, our clients have the freedom to receive full bookkeeping services without concern that they may not have chosen all the right pieces or services.
Bookkeeping Service Details
We are very flexible with regard to what we do for each client. Below is a list of functions we typically provide to our clients.
We work with QuickBooks Online and Desktop
Accounts Receivable
Accounts Payable
Purchasing
Review supplier/vendor billing for accuracy
Inventory Management
Payroll
Avalara monthly sales tax reconciliation
W-2 and 1099 reporting
Categorize all transactions
Bank account & credit card reconciliation
Prepare monthly financial report
Evaluate financial budgets and track expenses
Organize bookkeeping processes
Easily manage your bill pay & more
Do you have any monthly packages for your bookkeeping services?
Bookkeeping Monthly Rates
Some clients, usually when they have been working with us for a while know how much bookkeeping services, they need each month. Some of those clients prefer just to pay a single recurring monthly rate.
Monthly Packages – Pricing in Recurring Monthly Plans
$350
$750 (Most Subscribed)
$1,685
As with the hour blocks, there are no limits on the specific tasks covered within these rates. Once we have a sense of what a specific client needs to have done each month we will typically recommend they transition to a recurring monthly package.
Other Frequently Asked Questions
How much does it cost to hire a bookkeeper in Columbus?
Rates vary enormously, anywhere from $20 – $65 an hour. Often rates vary based on specific tasks that are or are not covered. Sometimes fees are grouped into monthly packages.
One thing is for sure skills and scope of services you will get vary enormously regardless of the costs.
How much does a Columbus bookkeeper cost per hour?
Typical rates vary from $20 to $65 an hour.
You can bet that an experienced and skilled bookkeeper will not be at the low end of those rates. As with most things in life, "you get what you pay for".
What is the going rate for a bookkeeper?
It is sometimes possible to hire an entry-level bookkeeper for as little as $20 an hour. However, a skilled and experienced bookkeeper's fees are likely to be upwards of $45 an hour.
How much does it cost to hire an accountant?
Generally, rates for accountants start at $45 and sometimes reach over $100 depending upon the level of service provided.
There is a big cross-over between an accountant and a bookkeeper. In a very loose way, you can say that a bookkeeper will focus more on the day-to-day transactional functions of the business they support. An accountant will generally take that information and present insights into the profitability and health of the company.
It is not uncommon for one individual to provide both levels of service. Generally, CPAs (Certified Public Accountants) tend to focus on completing a companies' tax return.
One thing is for sure, there is a lot of cross-over between these functions.
Get Started with Columbus Bookkeeping & Accounting Services
Whether you are a new start-up company or a small business that wants to transition its manual accounting process to accounting software, we can provide everything you need at a reasonable, transparent cost.
Call (614) 205-5676 or if outside of normal business hours complete our bookkeeping services contact form and we will contact you as soon as we can.